In-line with WEEE legislation, old electronic items must not be disposed of with standard waste but should be taken to a central collection point for recycling.
Our Garden Centres are happy to offer a Free Take-Back service to our customers. We will store your electrical waste products until they can be collected by an approved waste disposal company.
All electrical products should now carry a symbol of a crossed-out wheelie bin.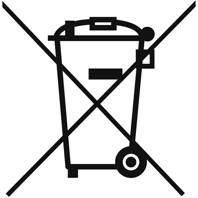 Heading
This is to remind consumers that the product should be disposed of carefully and not thrown out with general household waste. Over 75% of waste electrical goods end up in landfill, where lead and other toxins contained in electrical goods can cause soil and water contamination, which can lead to negative effects on human health and the environment.
You can return your WEEE (including small WEEE less than 25cm longest side) to this store for recycling on a like for like basis and within 28 days of purchase of your new item (regardless of whether the item was purchased in store or online).
Alternatively, you can find information regarding recycling centres on https://www.recycle-more.co.uk/home