Dogs are welcomed at all Dobbies stores.
Do you love to bring your dog with you everywhere you go? If you need a new lawnmower and you've brought the dog to help you choose, Dobbies doors are wide open.
We are totally dog-friendly – no breed discrimination. Just keep your dog on the leash.
To ensure a visit to our stores is enjoyable for you, your canine companion and other customers please look at the guidance below before you bring your pup along:
Well behaved dogs are permitted in-store, in all outside seating areas and in the Dog Friendly area of the restaurant.
Dog Friendly areas are accessed though the route specified in-store.
Dogs are not permitted in the Foodhall or children's play areas.
Recognised Assistance Dogs are permitted to accompany their owners in all areas.
Dogs are not allowed in any trolley and must be kept on a lead at all times.
Fresh drinking water is supplied at all times at a dedicated Dog Drinking Station.
Please clean up after your dog – it is the owner's responsibility. We do sell a range of poop bags if you forget yours (including a lavender scented one!).
Please ask a member of staff in-store if you need any more information.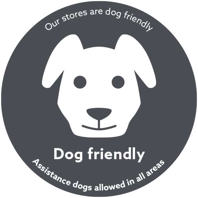 Heading