Dogs are welcomed at all Dobbies stores.
Do you love to bring your dog with you everywhere you go? If you need a new lawnmower and you've brought the dog to help you choose, Dobbies doors are wide open.
We are totally dog-friendly – no breed discrimination. Just keep your dog on the leash.
To ensure a visit to our stores is enjoyable for you, your canine companion and other customers please look at the guidance below before you bring your pup along:
Well behaved dogs on short leads are permitted in-store, except in the restaurant.
Guidance and hearing dogs are allowed in all areas.
Fresh drinking water is supplied at all times at a dedicated Dog Drinking Station.
Please clean up after your dog – it is the owner's responsibility. We do sell a range of poop bags if you forget yours (including a lavender scented one!).
Please ask a member of staff in-store if you need any more information.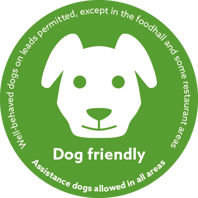 Heading