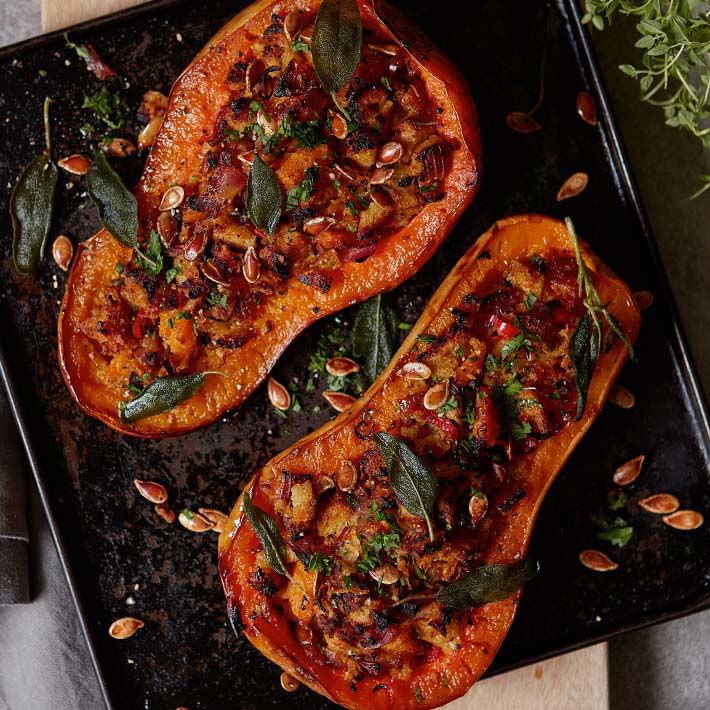 Ingredients
Serves: 4 (6 as a side)
Prep: 35 minutes
Cook: 1 hour 15 minutes
1 large butternut squash (about 1.2kg), halved lengthways, remove & clean the seeds

3 tbsp rapeseed oil

6 tsp olive oil

1 large red onion, sliced

4 garlic cloves, finely chopped

2 tsp chilli flakes [or 1 red chilli, finely chopped (deseeded, if preferred)]

12 sage sprigs, leaves picked

1 tbsp cider vinegar

100ml unsweetened soya milk

100g dried fresh breadcrumbs
Method
Preheat the oven to 200°C/180°C fan/gas 6. On a large foil-lined baking tray, season the squash, drizzle with 1 tbsp rapeseed oil & roast cut-side down for 40-45 minutes, until just tender.
Flip the squash & push to one side, then add the cleaned butternut squash seeds to the other side, drizzling with another 1 tbsp rapeseed oil. Roast for a final 10-15 minutes, until the squash is very soft & seeds are a deep brown colour.
Meanwhile, heat 3tsp olive oil in a medium frying pan until foaming. Add the onions with a pinch of salt & pepper then cover & cook for 5 minutes. Once the onions have started to soften, uncover & cook over a medium heat for about 10-15 minutes until the onions are starting to brown. Add the garlic, chilli & half the sage, roughly chopped. Cook for a few more minutes then remove from the heat.
Turn the oven up to 220°C/200°C fan or gas mark 7. Scoop the flesh out of the squash leaving a 1cm border. Add to a bowl with the vinegar, onion mix & unsweetened soya milk, as well as half the breadcrumbs & roasted seeds. Season & return to the squash halves. Scatter evenly with the remaining breadcrumbs & roasted seeds, drizzle with more rapeseed oil & roast for a final 10-12 minutes, until golden brown.
Heat the remaining 3tsp olive oil in a small frying pan & once foaming, add the reserved sage leaves. Fry for 30-40 seconds, until crisp & bright. Spoon over the squash, serve & enjoy with steamed seasonal greens.