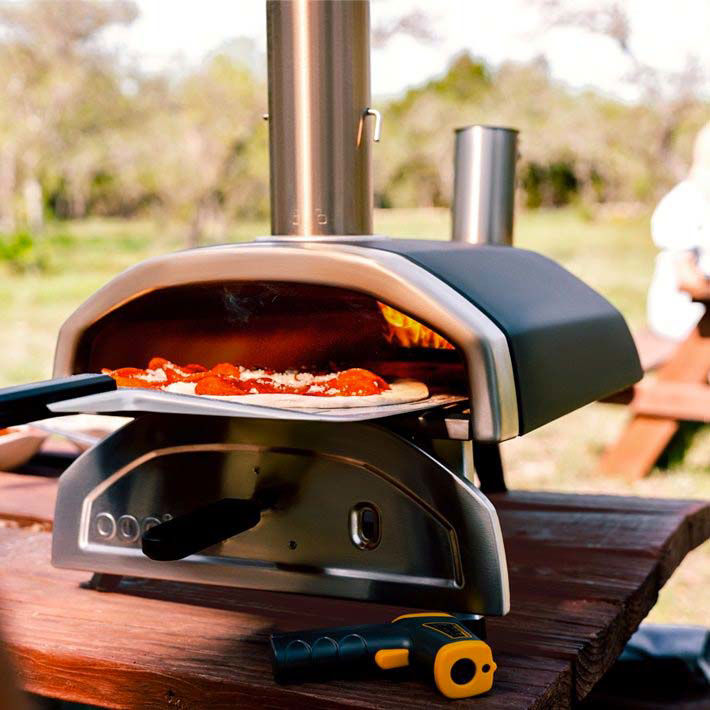 1. Make sure you're prepped with the tools and ingredients you need
Delicious pizza starts with great dough, and our favourite is the Ooni Classic Pizza Dough Recipe
Plan ahead to make sure you have all of the toppings you need for your pizza party!
2. Now the fun part - it's time to stretch!
Be sure to have flour or semolina on hand before you start stretching, you are going to need it! Always allow your dough to reach room temperature before attempting to stretch. This will make your dough stretchy and easy to shape.
If possible, use your hands to stretch your pizza dough, don't worry about the perfect circle - at the end of the day, great pizza is all about taste.
We would always suggest working with two pizza peels, one to stretch and launch, like the Ooni Bamboo Pizza Peel, and one to turn and retrieve your pizza from the oven, such as the Ooni Perforated Pizza Peel.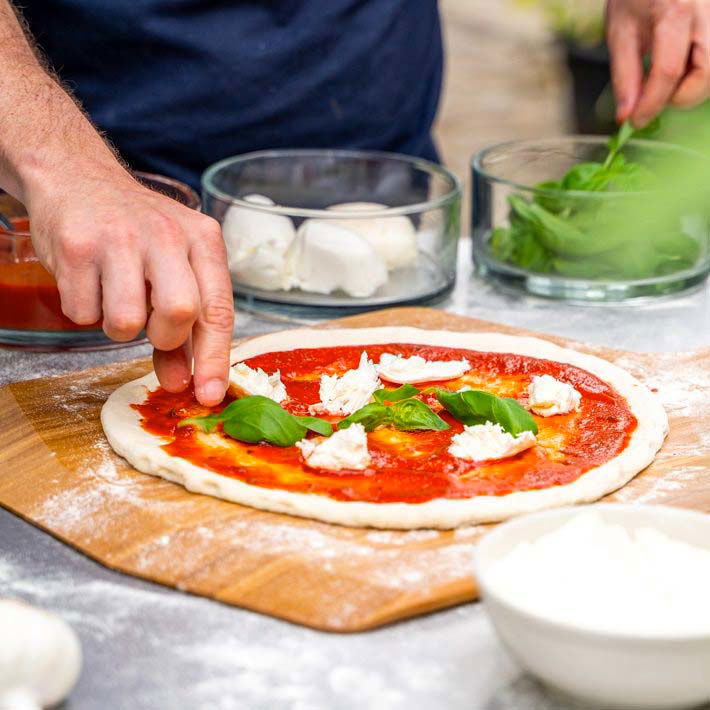 3. Always check your pizza isn't sticking
Flour everything. Seriously.
Give your stretched dough a shake on your peel to make sure this moves freely before adding your toppings. If in doubt, you can also dust your pizza peel with more flour. Shake the peel again once the toppings are on your pizza, but before you bring it to the oven to launch.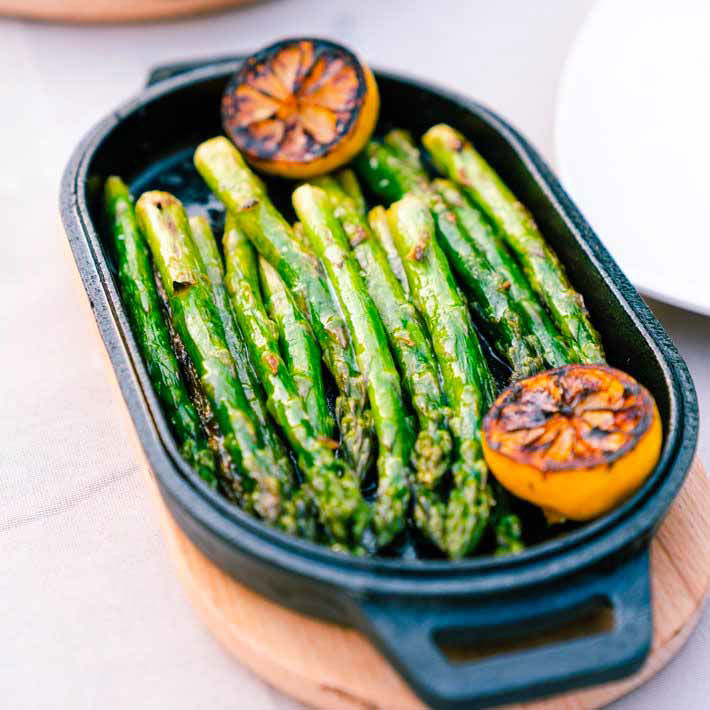 4. Keep toppings light
Less is always more. When there are too many pizza toppings, you may risk your pizza being too heavy, which will make it harder to launch into the oven. Make sure your toppings are cut up into small pieces and spread evenly across the base so you can get a little bit of everything in each bite without overloading your dough.
You can also use products from the Ooni Cast Iron range to cook pizza toppings and tasty sides in your Ooni oven.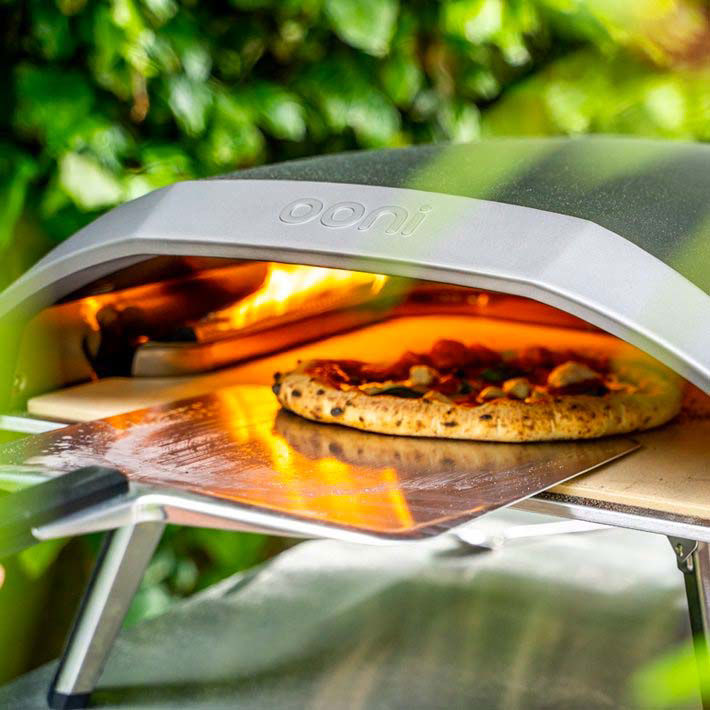 5. Launch with confidence
Your guests are hungry, your pizza is prepped and your Ooni oven has reached the optimal 500˚C. You're now ready to get cooking!
Using sure movements to launch and turn your pizza will ensure an even cook. Give your pizza a "shoogle" (or a shake) before launching your pizza, to make sure it still moves freely and hasn't stuck to the peel and then...go for it!
Aim for the centre of the stone baking board. The pizza will start cooking as soon as it hits the stone floor, so you will need to keep an eye on it and make sure to give it a turn every 20-30 seconds to ensure an even cook.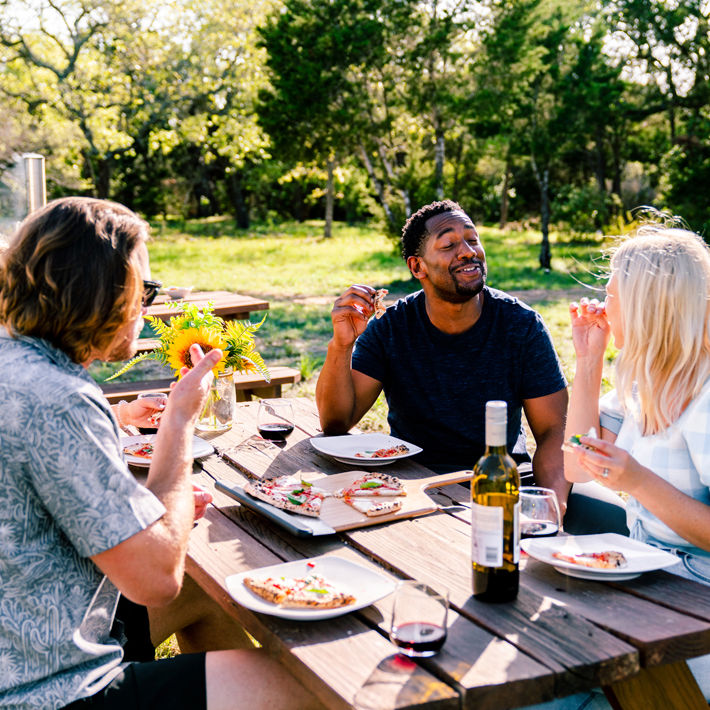 6. Share the joy of great pizza
We think you have it from here. If you use toppings you love, complete each step with care and serve right away, the only thing left to do is enjoy a slice!