Shopping List
Plant container
Flowering bedding plants
Tub & Basket compost
Liquid fertiliser
Gardening gloves
Hand trowel
Watering can
Step By Step Guide
Choose a container that suits your style and space, from contemporary eco-friendly plastics to classic wooden planters to traditional terracotta pots.
Pick your favourites from our wide range of flowering plants, from geraniums and fuchsias, impatients and begonias, marguerites and petunias.
Plant those that grow upright towards the centre to give height to your display and position low growing plants round the edges to trial over the sides.
Always use fresh quality compost such as Tub and Basket to give your plants all the nutritients they need for the best growth and flower perfomance.
Position in a sunny or partially shaded spot on your doorstep or patio for a colourful focal point you'll enjoy for months.
Water regularly to keep compost moist and feed weekly with liquid fertiliser through the growing season.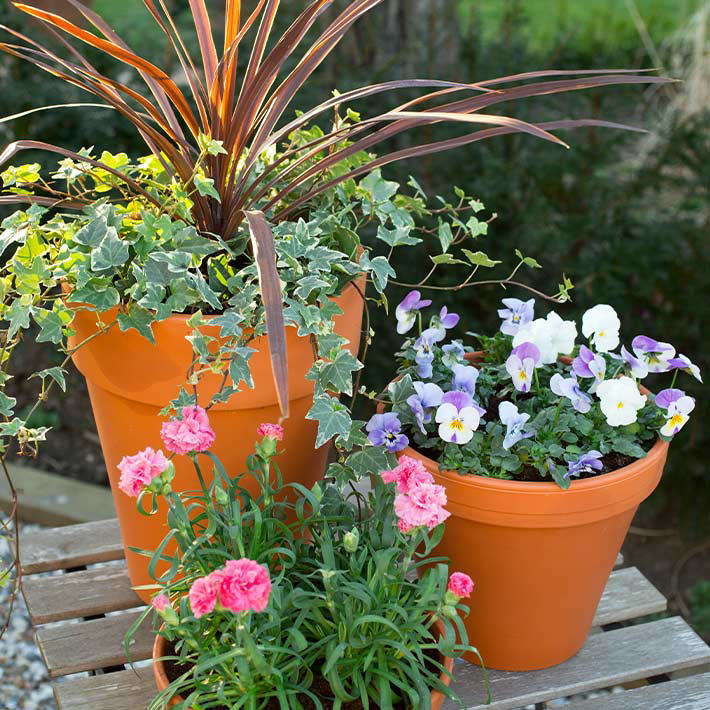 Know Your Flowering Plants
Geraniums (Pelargonium)
These sunshine lovers are traditional favourites of the summer garden. Choose from the beautiful colour shades of bushy zonal geraniums or pick trailing ivy-leaf ones for a flower display that will keep on going until autumn.
Fuschsias
With their lovely, pendant, bell-like flowers, fichsias are one of the mainstays of summer containers, continuing to flower for months on end. Easy to care for, fuchsias are a great choise for partial shade.
New Guinea Impatiens
Much loved summer favourites with stunning colourful flowers set against attractive glossy foliage. A great choise for patio containers in sun or shade.