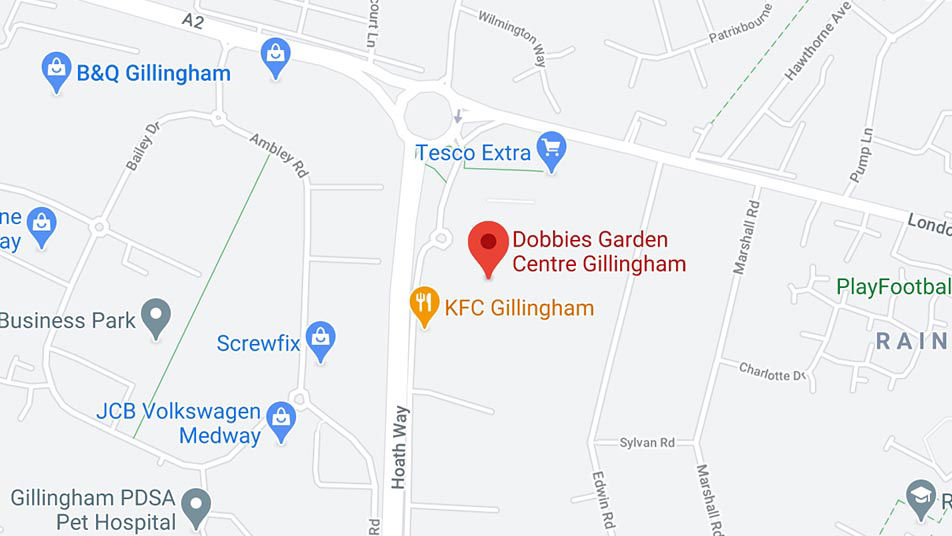 Dobbies Gillingham
Address
Courteney Road, Gillingham, Kent ME8 0FB
Contact us
Store telephone: 01634 393917
If you need to contact us for any other reason please contact Customer Service
Store opening hours
Monday:

9.00am - 6.00pm

Tuesday:

9.00am - 6.00pm

Wednesday:

9.00am - 6.00pm

Thursday:

9.00am - 6.00pm

Friday:

9.00am - 6.00pm

Saturday:

9.00am - 6.00pm

Sunday:

10.30am - 4.30pm
Coffee Shop opening hours
Monday:

9.00am - 5.30pm

Tuesday:

9.00am - 5.30pm

Wednesday:

9.00am - 5.30pm

Thursday:

9.00am - 5.30pm

Friday:

9.00am - 5.30pm

Saturday:

9.00am - 5.30pm

Sunday:

10.30am - 4.00pm
Restaurant Refurbishment
Our Restaurant is currently undergoing a revamp. During this time we will only be able to offer Hot Drinks and Cakes.
Our Soft Play will be closed.
We expect to re-open on Thursday 13th October

We have partnered with surplus food app, Too Good To Go, in a bid to combat food waste across our stores.
How to shop safely in-store

We have put together some guidance as to what to expect in our stores to keep you and our team members safe
Safety measures in our Restaurants

We have put together some guidance as to what to expect in our stores to keep you and our team members safe
Store concessions
Secure, self-service kiosks where you can pick up your Amazon packages
High quality meat products with local butcher mentality
Car washing and valeting services with excellent attention to detail
Fish, plants and accessories for your aquarium and pond
Largest car buying service in the UK with efficient customer service