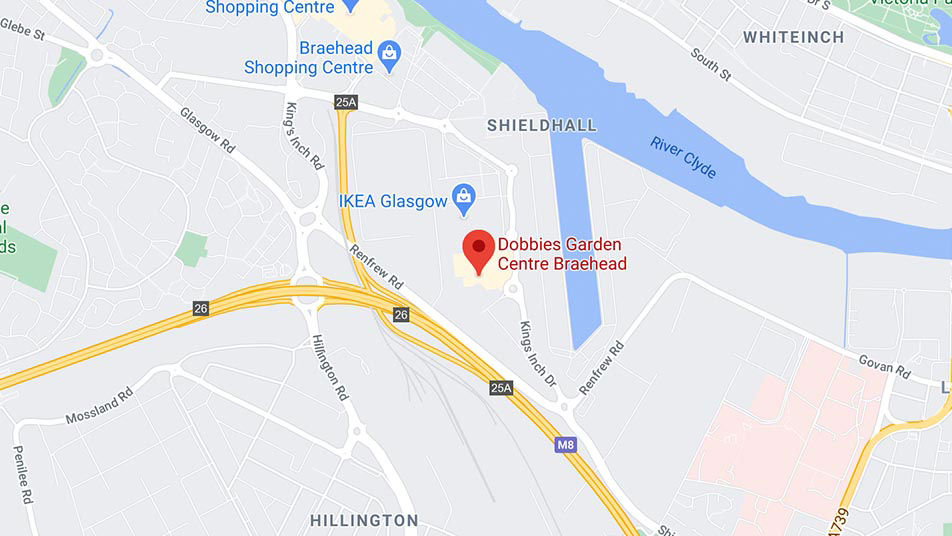 Dobbies Braehead
Address
75 King's Inch Drive, Renfrew, Glasgow G51 4FB
Contact us
Store telephone: 01418 868660
If you need to contact us for any other reason please contact Customer Service
Store opening hours
Monday:

9.00am - 6.00pm

Tuesday:

9.00am - 6.00pm

Wednesday:

9.00am - 6.00pm

Thursday:

9.00am - 6.00pm

Friday:

9.00am - 6.00pm

Saturday:

9.00am - 6.00pm

Sunday:

9.00am - 6.00pm
Restaurant opening hours
Monday:

9.00am - 5.30pm

Tuesday:

9.00am - 5.30pm

Wednesday:

9.00am - 5.30pm

Thursday:

9.00am - 5.30pm

Friday:

9.00am - 5.30pm

Saturday:

9.00am - 5.30pm

Sunday:

9.00am - 5.30pm

Our foodhall ranges over 2000 Waitrose products, giving you the best choice in great-tasting food, grocery products and everyday essentials

We have partnered with surplus food app, Too Good To Go, in a bid to combat food waste across our stores.
Store concessions
Secure, self-service kiosks where you can pick up your Amazon packages
Advice on installation of wet rooms, walk-in showers and baths
Fish, plants and accessories for your aquarium and pond
Garden and leisure buildings that are built to last
We supply a range of solutions for most home improvement projects. Having a wealth of experience in each field and their overlays we are experts in merging trades typically under multiple contracts into one simple solution for you.
Largest car buying service in the UK with efficient customer service