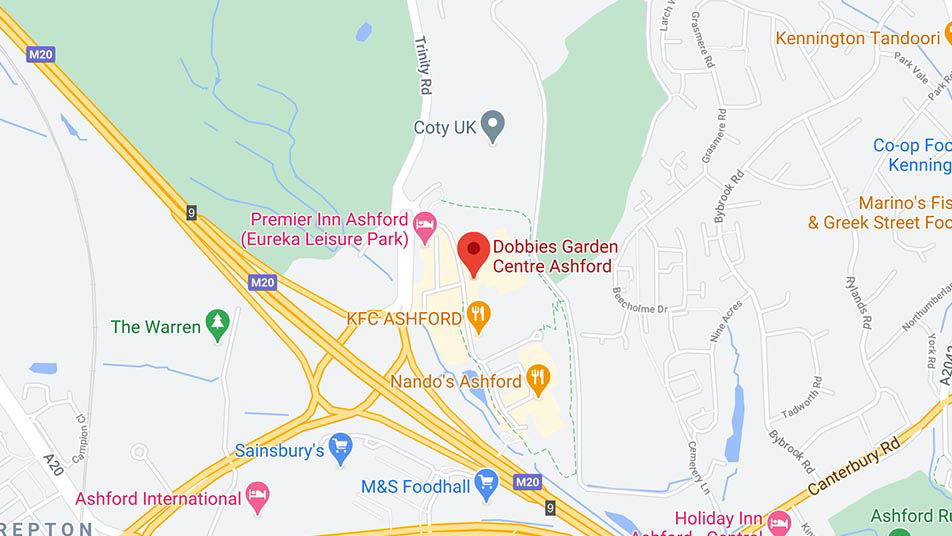 Dobbies Ashford
Address
Eureka Leisure Park, Rutherford Rd, Ashford TN25 4BN
Contact us
Store telephone: 01233 619360
If you need to contact us for any other reason please contact Customer Service
Store opening hours
Monday:

9.00am - 6.00pm

Tuesday:

9.00am - 6.00pm

Wednesday:

9.00am - 6.00pm

Thursday:

9.00am - 6.00pm

Friday:

9.00am - 6.00pm

Saturday:

9.00am - 6.00pm

Sunday:

10.30am - 4.30pm
Restaurant opening hours
Monday:

9.00am - 5.30pm

Tuesday:

9.00am - 5.30pm

Wednesday:

9.00am - 5.30pm

Thursday:

9.00am - 5.30pm

Friday:

9.00am - 5.30pm

Saturday:

9.00am - 5.30pm

Sunday:

10.30am - 4.00pm

Hot meals served until 3pm
Soft Play opening hours
Our soft play is currently undergoing repairs to the roof.
While works are taking place, soft play will be open for walk-ins only and subject to the weather conditions. In case of inclement weather, the soft play will unfortunately be closed.
Thank you for your understanding while we work to improve your soft play experience
Monday - Saturday:

9.15am - 4.45pm

Sunday:

10.30am - 3.30pm

Last entry is 1 hour before closing time

Our foodhall ranges over 2000 Waitrose products, giving you the best choice in great-tasting food, grocery products and everyday essentials

We have partnered with surplus food app, Too Good To Go, in a bid to combat food waste across our stores.
Store concessions
Secure, self-service kiosks where you can pick up your Amazon packages
Fish, plants and accessories for your aquarium and pond
High quality meat products with local butcher mentality
Wide selection of hot tubs, spas, water care products and accessories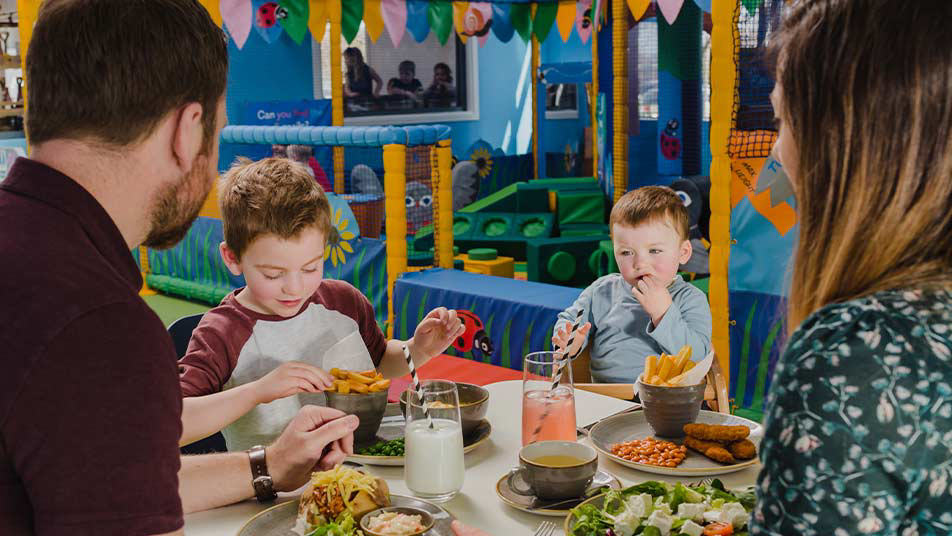 Soft Play
We recommend pre-booking your soft play session online - you can do this by clicking below to select a timeslot, then pay on the day of your visit
A small number of walk-ins are available each day, but space cannot be guaranteed
Baby age range: 0 - 2 years
Main area age range: 3 - 8 years
Cost: £3