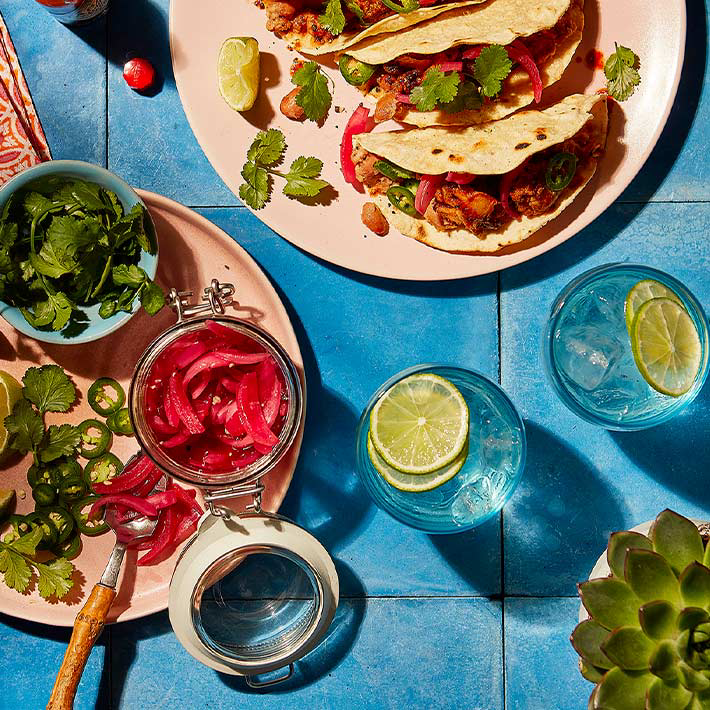 Ingredients
Serves 4
Prepare 30 minutes
Cook 25 minutes
1 small head cauliflower, cut into small florets
3 tbsp vegetable oil
4 tsp smoked paprika
4 tsp ground cumin
2 cloves garlic, chopped
2 cans borlotti beans, drained and rinsed
1 tbsp honey
3 tbsp cider vinegar
Pickled red onions
150ml red wine vinegar
1 tbsp salt
1 tbsp caster sugar
2 medium red onions, sliced into half-moons
To serve
Warm corn or flour tortillas
Fresh coriander
Sliced green chilies
Chipotle hot sauce
Method
1. Preheat the oven to 220˚C, gas mark 7. To make the pickled red onions, heat the red wine vinegar in a small saucepan with 50ml water, salt and sugar. Bring to the boil, then take off the heat. Add the onions and leave to cool to room temperature.
2. Put the cauliflower on a baking tray. Drizzle with 1 tbsp vegetable oil, sprinkle with 2 tsp each of smoked paprika and cumin, and season with salt and pepper. Bake for 15-20 minutes until charred. Remove and set aside.
3. Meanwhile, in a large frying pan, heat the remaining 2 tbsp vegetable oil and the garlic. Sauté over medium heat for 2-3 minutes until golden. Add the beans, remaining 2 tsp each smoked paprika and cumin, honey, and cider vinegar; season with salt and pepper. Cook for another 5 minutes, then remove from heat.
4. When ready to eat, warm the tortillas and serve with bowls of the beans, pickled onions, coriander, chillies, pickled red onions and hot sauce for people to help themselves.