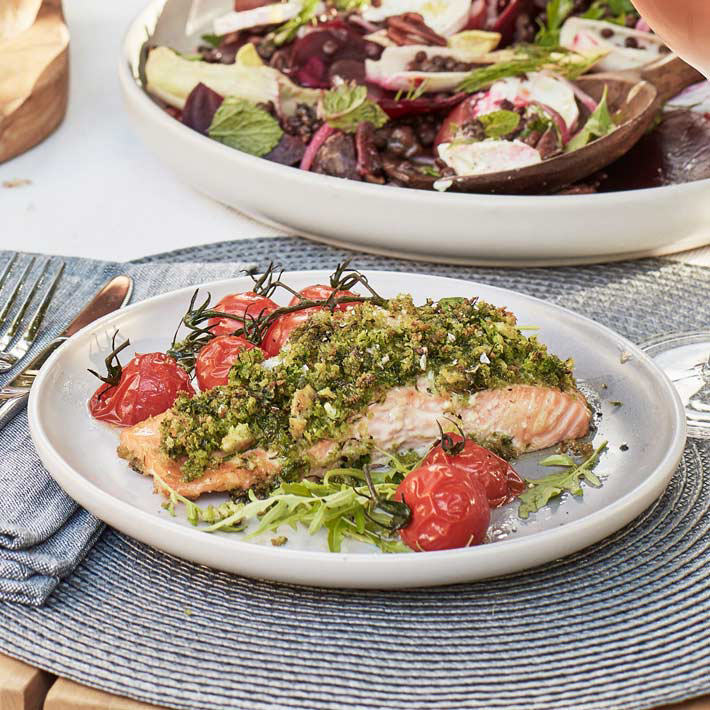 Ingredients
Serves: 4
4 x 125g skinless salmon fillets
30g stale sourdough or ciabatta, crust removed
10g dill
5g parsley
1 garlic clove
1 lemon
3 tbsp olive oil
1 tbsp English or Dijon mustard
1 tbsp runny honey
200g vine-on cherry tomatoes
Seasoning
STEP-BY-STEP GUIDE:
1. Preheat your oven to 200°C/180°C fan. Then in a food processor pulse the bread, dill, parsley, garlic, zest of lemon & 2 tbsp olive oil until you have a coarse crumb. Season generously with sea salt and freshly ground pepper and set aside.
2. In a small bowl, mix together the mustard & honey until well combined.
3. Line a baking tray with non-stick baking paper then place the salmon fillets and generously brush each fillet with the honey & mustard mixture, spoon over some of the herby crumb mix and gently pat down with your hand.
4. Arrange the cherry tomatoes around the salmon fillets and drizzle with the remaining 1 tbsp olive oil. Bake in the preheated oven for 15 minutes until the salmon is just cooked through and the tomatoes have started to burst.
5. Serve and enjoy with a green salad or new potatoes