Step By Step Guide
Choose a hanging basket, from traditional metal to woven cone baskets and eco-friendly self-watering plastics
Pick your favourite mix of trailing and upright summer flowering basket plants and plant in odd numbers, such as 7 or 9 for a natural look.
Half fill the basket with good quality compost. Tub and Basket or multi-purpose compost is ideal. Add water retaining granules and slow release fertiliser for strong growth. Stand the basket on an empty flowerpot while you're planting to keep it steady.
If you're planting a traditional basket with a liner, insert trailing plants through the sides, cover the roots with a layer of compost and firm gently into place.
Plant the top of the basket, with upright plants in the centre and trailing ones around the sides. Tuck compost into any remaining gaps and water well to settle into place.
Keep protected until all risk of frost is passed then hang it on your patio or by your door for colour all summer long.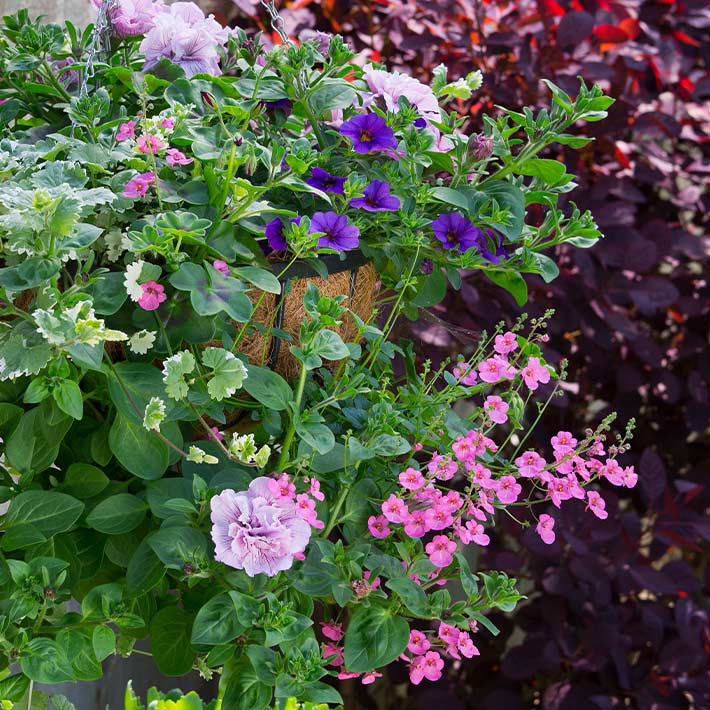 Know Your Flowering Basket Plants
Trailing Geraniums
These popular and easy to grow basket plants are available in a wide range of gorgeous colours and will remind you of holidays in the Mediterranean!
Trailing Petunias
Available in a huge range of colours, petunias are guaranteed to fill your basket with trailing flower colour. Look out for scented varieties too.
Trailing Verbena
With masses of delicate flowers, Verbena are invaluable for tying your basket display together. Will flower for months on end too.