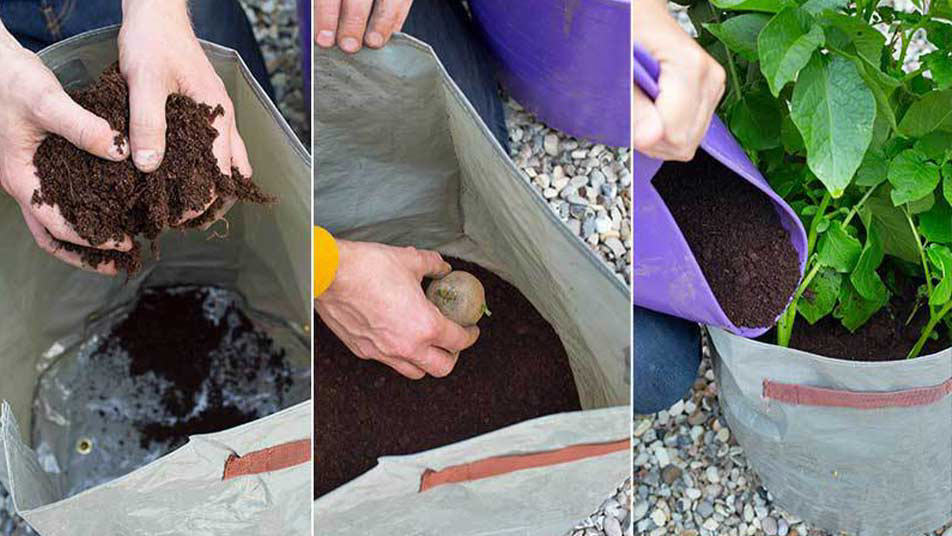 Shopping list
Potato sack or tub
Your choice of seed potatoes
Good quality multi-purpose compost
Potato fertiliser
Hand trowel
Watering can
When to Plant and Harvest Potatoes
When to Plant Potatoes
There are three main types of potatoes and all are best planted in spring across March, April and May. In fact, each of their names will give you a clue as to when to plant them: early potatoes (or new potatoes), second early potatoes (also called 'new' potatoes) and maincrop potatoes.
Early, Second and Maincrop What Month Do You Plant Potatoes?
When to plant 'first early' potatoes: Around late-March
When to plant 'second early' potatoes: Early to mid-April
When to plant 'maincrop' potatoes: Mid to late-April/May
When to Harvest Potatoes
Again, because there are three types of potatoes, the times that are best to harvest them range between June-October.
Early, Second and Maincrop: What Month Do You Harvest Potatoes?
When to harvest 'first early' potatoes: Around June and July
When to harvest 'second early' potatoes: Around July and August
When to harvest 'maincrop' potatoes: From late-August to October
Top tip: One thing to remember is that, depending on where you are in the country, these times will be slightly different. In areas with milder weather, the timescales may be a little earlier, and for those with harsher weather, it could be a little later.
Step by Step Guide: How to Plant Potatoes in a Bag or Tub
1. You should help your seed potatoes to start growing by standing them upright in an egg carton or tray container, which is a process known as chitting. Make sure the 'eyes' (the little buds) are facing upwards, and keep them in a bright and frost-free place until new shoots start to come through.
2.  Next, get your potato sack or tub and fill about a quarter of the container with good quality multi-purpose compost. You'll want to mix in a couple of handfuls of potato fertiliser to give them an extra boost too.
3.  Evenly space out three seed potatoes on the top and cover with another layer of compost to block out light.
4.  Water regularly to keep the compost moist and keep the sack or tub in a bright, frost-free place. Keep topping up the compost as green shoots appear, until it's full to the brim.
5. Your homegrown potatoes will be ready to pick after about 12 weeks, or when the plants have flowered but while the foliage is still green.
6. Once this happens, tip the bag or tub upside down, gently shake out the contents onto the ground and get ready to eat. How many potatoes you get per plant will depend on the conditions, but you can hope for around 10!
The Specifics
Which way up to plant potatoes: Make sure the 'eyes' – the little buds – are facing upwards.

How far apart to plant potatoes: Spread out around three potatoes evenly in the tub or sack.

How deep to plant potatoes: Fill the potato sack or tub with around 4 inches of soil before placing the potatoes on top and covering it with another 4 inches.
Top tip: Plant early, second early and maincrop varieties in separate bags and you'll have fresh, tasty potatoes all summer long.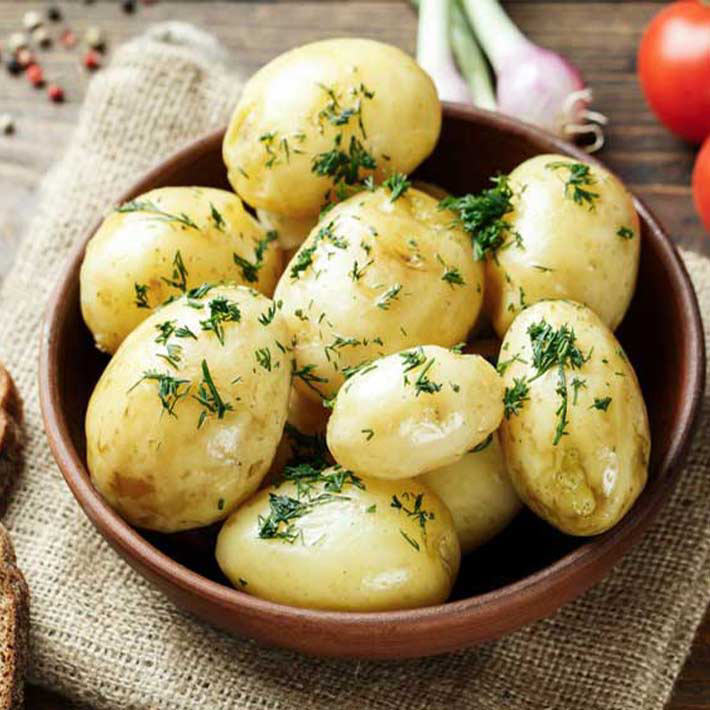 Know Your Seed Potatoes
Potato 'Arran Pilot'
This is one of the nation's favourite 'first early' seed potatoes, and is perfect for planting at the end of March. With a waxy, white flesh, they're typically the best for boiling and baking.
Potato 'Charlotte'
These potatoes are a popular 'second early' potato and are ready to plant mid-April. With a firm flesh, these potatoes are ideal for boiling, steaming and fresh salads.
The Maris Piper
The 'Maris Piper' is an all-rounder 'maincrop' potato for planting in late-April. Their fluffy white flesh makes them wonderfully crisp for tasty chips and roast potatoes.