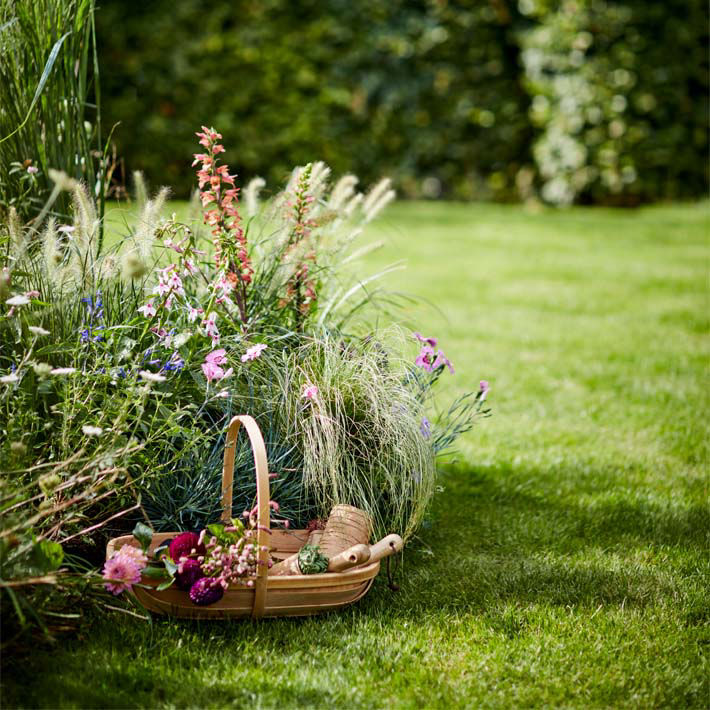 Shopping list
Lawnmower
Edging iron or sharp garden spade
Garden fork
Spring tine rake or mechanical scarifier
All-in-one feed and weed lawn treatment
Lawn spreader
Lawn seed
Step-by-step guide:
Once your lawn starts to show signs of growth in spring, give it its first mow of the season. Keep the blades on the highest setting to start with, lowering them gradually as the season progresses.
Tidy up the edges with a lawn edging iron if you have one, or a sharp spade. It's amazing what a difference crisp edges can make to the look of your lawn.
Use this opportunity to make any changes to the shape of your lawn for a new summer look. A garden line is a great help for marking out straight edges, while a hosepipe laid out on the lawn is a good way to create sweeping curves.
Rake the entire lawn with a spring tine rake, known as scarifying. This will remove any dead thatch, let more light into the grass and encourage strong growth. Don't worry if it looks a little bare afterwards, the grass will quickly grow back.
A wet winter can leave your lawn compacted and waterlogged so use a garden fork to aerate the soil. Push it halfway into the ground every 6 inches/15cm across compacted patches, wiggling it around to create air channels down to the roots and help with drainage.
Repair bare patches by sowing grass seed directly onto the soil. Rake first to create a crumbly surface, then scatter seed evenly. Rake again to settle the seed into place, water and cover with fleece or fine mesh to protect from birds.
Top tip: Apply all-in-one feed and weed lawn treatment in spring for a lush green lawn