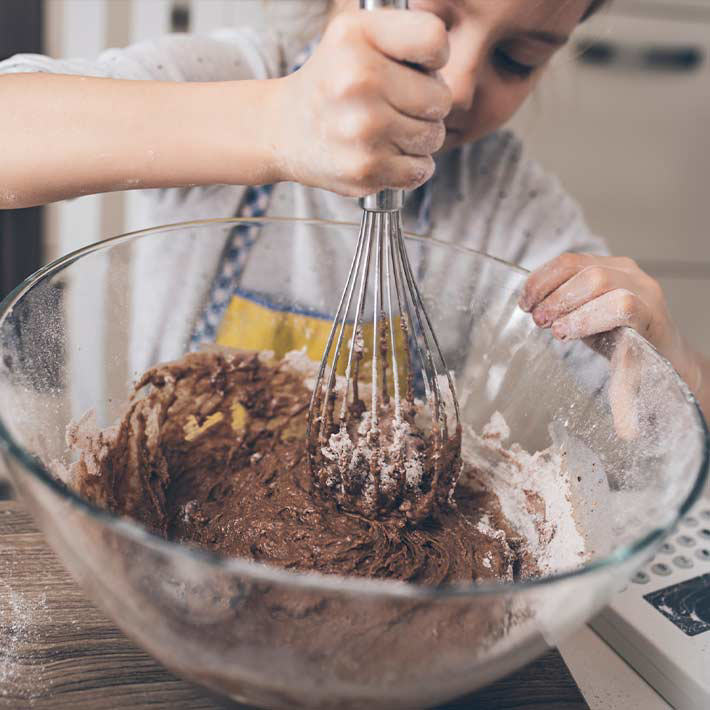 Ingredients:
Cake mix:
3 large eggs
85g golden caster sugar
3 tbsp butter, melted
70g plain flour
2 tbsp cocoa powder
1/2 tsp baking powder
Icing and topping
100g mini chocolate eggs
1 flake or broken up chocolate bar
90g soft butter
90g icing sugar
1 tbsp cocoa powder
1/2 tsp vanilla extract
Please ensure that this recipe is done with the help of an adult.
Method:
Pre-heat your oven to 180C/160C fan/gas 4. Place 12 cupcake cases in a cupcake baking tray tin.
Whisk the eggs and sugar together until the mixture is light and fluffy – this will take around 5-8 minutes with a stand mixer or 10 minutes using an electric hand whisk. The mixture will have increased in volume and should be thick enough to leave a trail when the whisk blades are lifted.
Now gently fold in the melted butter. Sift the flour, cocoa and baking powder over the surface and fold in using a large spoon, trying not to knock out too much air.
Divide the mixture between the cases, then bake for 15-20 minutes until well risen and the sponge springs back when gently pressed. Leave to cool in the tins

for 5 minutes, then lift out onto a cooling rack.
Now it is time to decorate! Beat the butter, icing sugar, coco powder, vanilla and 2 tsp hot water together using an electric whisk for 4-5 mins until light, fluffy and nearly doubled in size.
Spoon your butter icing into a piping bag with a star nozzle. Pipe a circle on to the cupcakes, ensuring there is a hole in the middle.
Break your flake or chocolate bar into pieces, so they resemble small branches. Place over the icing so it starts to look like a nest. Now put the chocolate eggs in the middle.