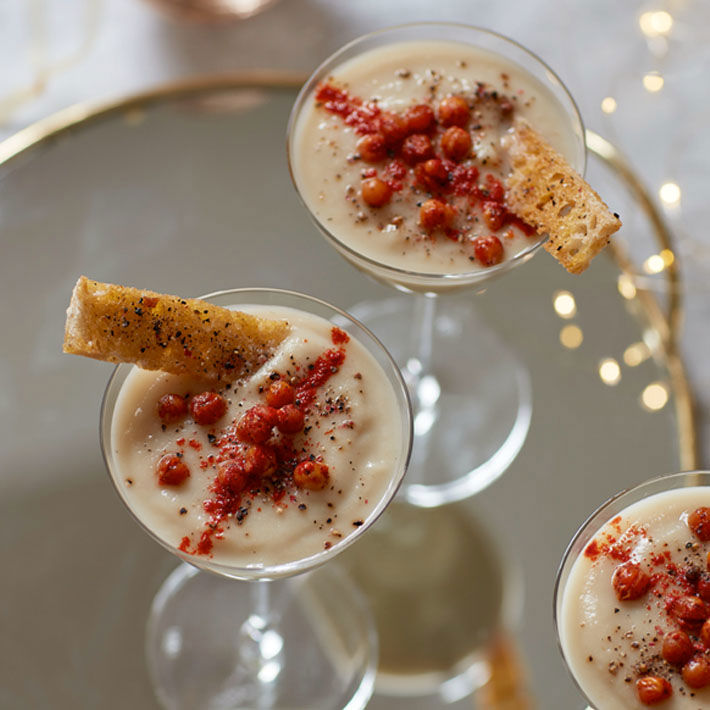 Ingredients
Serves: 4-6 (Makes about 12 glasses - 2-3 per person)
Prep: 15 minutes
Cook: 40 minutes
1 medium cauliflower (about 750g), trimmed & cut into small florets
400g can chickpeas, drained
1 small onion, roughly chopped
3 garlic cloves, peeled
3 tbsp extra virgin olive oil, plus extra to serve
½ tsp sweet smoked paprika, plus extra to serve
2 thin slices sourdough bread (about 50g each)
Method
Preheat the oven to 200°C/180°C fan/gas 6. Add the cauliflower, half the drained chickpeas, chopped onion & garlic to a medium saucepan with 1 tbsp olive oil. Add enough water to just cover the ingredients, season & bring to a boil with the lid on. Uncover & bring to the boil, stirring occasionally until the liquid has reduced by half & the ingredients are really tender, this should take around 25-30 minutes.
As the cauliflower cooks, add the remaining chickpeas to a small roasting tray, toss with 1 tbsp olive oil & the paprika, season & roast for 5 minutes.
Meanwhile create the crostini. Cut each slice of bread into 12 small pieces & spread on another baking tray. Drizzle with 1 tbsp olive oil, season & roast alongside the chickpeas for another 10 minutes, until both are well browned & crisp.
When the cauliflower is ready, whizz using a hand blender to really smooth pureé then season to taste. Divide between small drinking or short glasses (about 100-150ml max) serving about 4 tbsp [60ml] per person. Top with the crispy chickpeas, a drizzle more olive oil & an extra sprinkling of paprika. Serve with the crostini nestled in each glass.